By Kat Kramer
Well folks, I spent quite a lot of time in 2022, seeing two different stage productions of "Guess Who's Coming To Dinner", a stage adaptation by Todd Kreidler, based on the Stanley Kramer landmark 1967 film, with a screenplay written by William Rose. There's also a new Netflix film called "You People" starring Eddie Murphy and Jonah Hill, written by Kenya Barish and Hill, loosely based on the film GWCTD.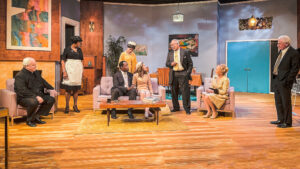 The Academy Award winning film about interracial marriage starred Spencer Tracy, my Godmother Katharine Hepburn, Sidney Poitier, Katharine Houghton, Isabel Sanford, Beah Richards, Roy Glenn, Cecil Kellaway, Virginia Christine, and Alexandra Hay. 1967, the year the film was released, was an important year in the civil-rights movement. In the US, interracial marriage was against the law in sixteen states. It was the time of Loving vs. Virginia Supreme Court case, which legalized interracial marriages nationwide.
In fact, my parents' lives were threatened for my father even making the controversial film Indeed, it helped usher in the law being overturned, and made interracial marriage legal. It's still a timeless classic to this day. It regularly plays on the Turner Classic Movies channel and is screened all over the world. "Guess Who's Coming To Dinner" is a beloved and multi-generational film.
It's imperative we all recognize the times in which it was made. The stage version is a period piece that takes place in San Francisco and reflects 1967 America. You may ask yourself, how much has changed and stayed the same in 2022?   For me, the premise seems relevant today, and is not dated. The press notes describe the play as the story of "a progressive white couple's proud liberal sensibilities are put to the test when their daughter brings her Black fiancé home to meet them in this fresh and relevant stage adaptation of the iconic film 'Guess Who's Coming To Dinner.'"
The first local production of Kreidler's stage adaptation played over the summer at The Ruskin Group Theatre in Santa Monica.  It featured a stellar cast and was directed by Lita Gaithers.  The show was their first back after the COVID lockdown and proved a big hit. The current production is playing at Theatre 40 in Beverly Hills, and directed by Cate Caplin, a female director. She has produced, directed, and choreographed over 200 productions and is the winner of multiple theatrical awards.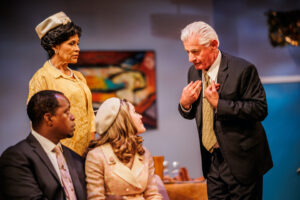 Caplin does an excellent job in highlighting the comedic elements of the romantic dramedy. The cast includes Diana Angelina as Christine Drayton (the Hepburn role) and Larry Eisenberg, who expertly plays Matt Drayton, (the role made famous by Spencer Tracy.)  Marc Antonio Pritchett plays Dr. John Wade Prentice (Sidney Poitier's iconic role).  Pritchett does his best to inhabit the role, but it's a challenge to follow in Sidney Poitier's footsteps.
Abigail Stewart is vivacious as the daughter Joanna Drayton, the role originally played by Kate Hepburn's own niece, Katharine Houghton. In fact, it was my mother, Karen Sharpe-Kramer, who suggested Houghton for the role. Stewart infuses Joey with a mixture of wide-eyed enthusiasm and strong feminism. The rest of the cast is stellar, especially Crystal Yvonne Jackson as Matilda "Tillie" Banks, Jenn Robbins as the reactionary bigot, Hilary St. George.  Frederick Dawson and Patricia A. Lewis are solid as  John Prentice, Sr. and Mary Prentice, John's reluctant parents, especially Mr. Prentice who has generational differences with John. David Hunt Stafford does a masterful job as Monsignor Ryan.  The production values are first rate, with set design by Jeff G. Rack.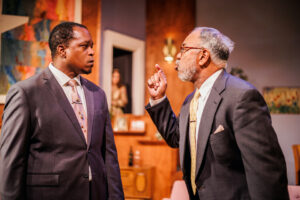 Theatre 40's production of "Guess Who's Coming To Dinner" is dedicated to the memory and excellence of the late Sidney Poitier, who was not only a great star, but had been a Beverly Hills resident. Poitier passed away in February 2022.
"Guess Who's Coming To Dinner" is produced by David Hunt Stafford, Artistic and Managing Director at Theatre 40. It plays Thursday through Saturday at 7:30pm, and closes Sunday, December 18th at 2pm.
For Online Ticketing: https://theatre40.org-  Admission: $35
Theatre 40 is located at 241 S. Moreno Dr. Beverly Hills, CA 90212.  On the campus of Beverly Hills High School. Free parking in the lot beneath the theatre.
In January 2023, "Guess Who's Coming To Dinner" moves to the beautiful, historical Greystone Mansion in Beverly Hills, located at 905 Loma Vista Drive, Beverly Hills, CA 90210.
Opening night is scheduled for Saturday, January 14th at 7:00 pm. Thursday-Saturday at 7:00pm, Sunday matinee at 2:00pm. Ends Sunday January 22nd, 2023.
This is a special limited engagement. For reservations please call (310) 364-3606 or visit Theatre40.org.
"Guess Who's Coming To Dinner" the play is an ideal show to catch during the Holidays, and beyond……
Live Your Dreams…..
Kat