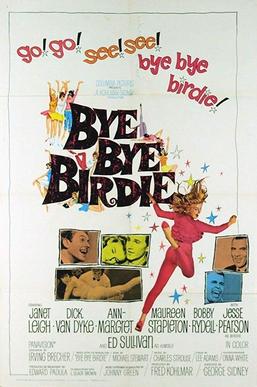 By Kat Kramer
Well folks, if you live in Southern California and you're ready to celebrate a classic film musical, you won't want to miss the special screening of "Bye, Bye, Birdie" at 7:30pm on February 14th, 2022 at The Montalban in Hollywood. Cinelounge and Cleopatra Records presents this special event, with the film's two stars, Ann-Margret and Bobby Rydell, scheduled to appear in person for a Q and A after the film.
Please note: the event date has been updated from the originally scheduled January date.
Ann-Margret's legendary career is still going strong. Known as the female Elvis Presley, she played opposite the King of Rock N' Roll in "Viva, Las Vegas."  She most recently appeared in the comedy film "Queen Bees," "Happy," "The Kominsky Method," and the remake of "Going In Style." She worked with my late father Stanley Kramer, who produced and directed her in "RPM" in 1970, opposite Anthony Hopkins. She is an Emmy and Golden Globe winner, and two-time Oscar nominee, for "Carnal Knowledge" and "Tommy."
As a bonus, fans will be treated to a sneak preview of some select songs from Ann-Margret's brand new studio album from Cleopatra Records, called "Born To Be Wild." This up-coming album features Bobby Rydell as a guest artist. In fact, there are many guest artists on the album. Rydell was a hugely popular rock star and teen idol in the 1960's, with a string of hits on the charts, and continues to perform on the nightclub and concert circuits.
"Bye, Bye, Birdie" (1963) is a musical comedy film from Columbia Pictures, based on the hit Broadway show, directed by George Sidney, Book by Michael Stewart and Irving Brecher. Music by Charles Strouse. Lyrics by Lee Adams. Produced by George Sidney and Fred Kohlmar. The movie stars Ann-Margret, Bobby Rydell, Dick Van Dyke (recreating his original Broadway role), Janet Leigh, Maureen Stapleton, Paul Lynde, Jesse Pearson, and Ed Sullivan.
The beloved musical, inspired by the real life induction of Elvis Presley in the Army, is about an Elvis-like rock singer, who travels to a small Ohio town, to make his "farewell" television performance and kiss his biggest fan before he is inducted. Classic songs such as "Put On A Happy Face" ,"How Lovely To Be A Woman" "A Lot Of Livin' To Do" , "One Last Kiss"  and "Kids" are featured in "Bye, Bye, Birdie."
If you adore classic Hollywood or classic rock, this is a once-in-a-lifetime event, your only opportunity to see these two iconic stars together LIVE.
There will be a "Meet and Greet" but tickets are limited, with ticket packages available for an intimate, reserved seating section of Hollywood's historic Montalban Theatre.
For tickets, please visit: cineloungehollywood.com
Live your dreams,
Kat