By Kat Kramer
Well folks, the 2021 Hollywood Fringe Festival is upon us. HFF is an annual event uniting local, national, and international artists in a celebration of the performing arts. Three of the most diverse solo shows were directed and developed by Jessica Lynn Johnson of Soaring Solo, LLC (Taking Solo Theatre To New Heights)
"Versatile" is a new show written and performed by Kevin Neighbors.  It opened August 5th at the Broadwater Black Box in Hollywood, and continues, and August 29th at 11am. In this original piece, Neighbors describes how he grew up in a foster family as a mixed race, gay man. Literally taken from his loving mother by child protective services, Neighbors experienced the bitter foster care system of the 1990's when multi-racial child placement is frowned on.
Neighbors plays over twenty characters and faces his challenges of being mixed-black with humor.  He feels that he exists between two worlds. Neighbors is skilled in using his narrative to blend acting, poetry, Shakespeare, hip hop, and African wildlife, with "The Lion King," to demonstrate his unique story. Johnson directs "Versatile" with skill and effectively uses lights and sound effects for transitions. "Versatile" needs to be seen.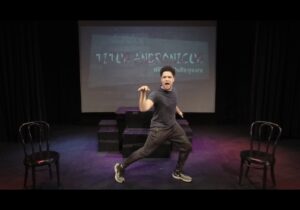 Kevin Neighbors and the production of "Versatile" has been selected to be recipients of a 2021 Hollywood Fringe scholarship. This accomplishment comes after "Versatile" was selected for the 2020 Black Voices Theatre Festival,  the Los Angeles Women's Theatre Festival's "Hot Off The Press" event (2020) the Whitefire Theatre's SoloFest 2021 (the largest solo performance festival on the West Coast) and was a Spotlight Production at the Kennedy Center American College Theatre Festival.
"Worth It!" – is an award-winning musical comedy solo piece written and performed by Carla Delaney, directed by Jessica Lynn Johnson. It opened August 8th at Broadwater Black Box and continues through Wednesday August 25th at 7pm.
In this timely tale, Delaney stars as Casey Dawning, a singer who aspires to be a back-up singer, but as her life evolves, she realizes she can be the lead. Carla portrays over forty characters in this very original show with music.
It has an MTV vibe as Delaney's characters are often featured in music videos. One of her most inventive characterizations is "Sheila" the bank teller. Delaney makes a smooth transition into her characters. She is also adept at pantomime. Johnson does a great job with sequences in slow motion. Delaney includes various references to the pandemic and has mastered the art of irony in the dialogue.
One of the leading themes is that Casey stresses "I failed at being a back-up singer." And she's funny. In one exchange with "Sheila," Casey shares that her survival job is "making boxes for Amazon." But is it your life's purpose? Casey continues in her clever observations that "The company even awarded me two years in a row for thinking "inside the box."  Casey sings a song "I Am Worth It!!" which is her declaration of discovering "value of self." I highly recommend "Worth It!" for a journey into Carla Delaney's clever, musical world.
"Yes? No? Maybe So?" – is a solo show with music, written, produced and performed by Catherine Barnes. Directed and developed by Jessica Lynn Johnson. It debuted at the Broadwater Black Box on August 6th.
Barnes is a professional musician, and her use of classical music in "Yes? No, Maybe So?"  is refreshing. In the play, Barnes goes to see a medical specialist to address a physical issue that affects her performance. She is also adept at pantomime, very humorous, and she is a master at rhyming.
At one point in the show, Barnes even portrays different COVID viruses, including "California COVID." Another highlight is when Barnes plays the dual roles of her therapist Dr. Scott, on the autism spectrum, and Professor Sarah P. Outrage, her inner social justice warrior. Barnes sings outrageous original song parodies with a pre-recorded orchestra.
"Yes? No? Maybe So? " was an official selection of SoloFest 2021 at the Whitefire Theatre where Barnes won the Female Empowerment Award. Ultimately it's about consent and boundaries.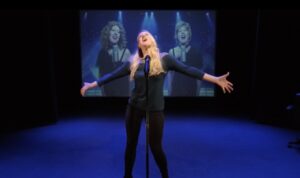 All three of these solo selections of the 2021 Hollywood Fringe Festival were for performed for live audiences at The Broadwater Black Box, and each performance was live streamed as an option to experience solo theatre.
I want to mention that yours truly had "Kat Kramer-Comedy" video selected for Virtual Fringe Cabaret and Fringe TV for #FringeAtHome performances.
If you'd like to check out "Versatile" " Worth It!" "Yes? No? Maybe So?" and other Fringe favorites, please visit www.hollywoodfringe.org
Live your dreams…
Kat