By Gordon Meyer
To people in Los Angeles, the Cinerama Dome is a treasured part of the motion picture industry for almost 60 years. Built in 1963 as the first new movie theatre to open in Hollywood in years, the Dome was intended to be the prototype for a chain of hundreds of Cinerama theatres nationwide but ended up being the only one ultimately built. What is Cinerama, you may ask? It was an exceptionally immersive technology that used a deeply curved screen, seven channel stereophonic sound and initially required three projectors to fill that giant screen.
Cinerama began the transition to widescreen formats that would include CinemaScope, Todd-AO, Technirama, VistaVision and Panavision. Before Cinerama, movies were almost square in shape, using a 1.33:1 or 4:3 aspect ratio. Cinerama more than doubled that width for an image that seem to wrap around the audience, filling their entire field of view.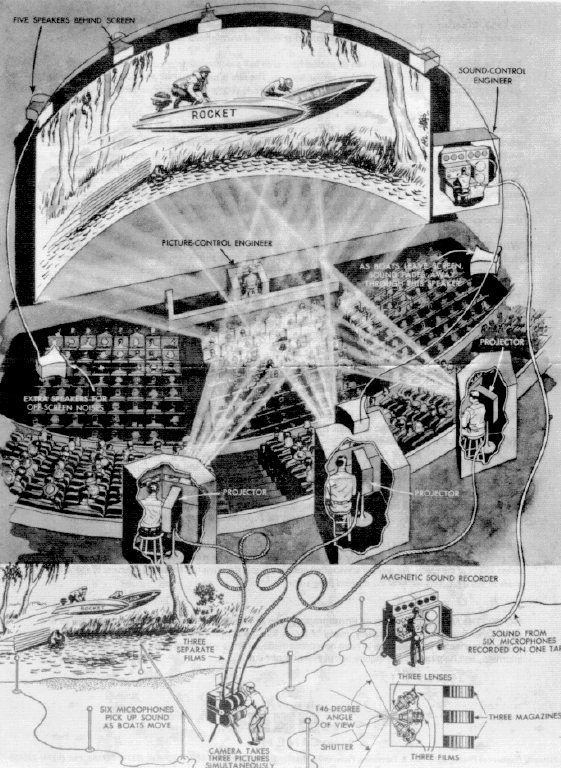 The first Cinerama movies required a massive camera which simultaneously exposed three reels of 35mm film. In specially equipped theatres, three projectors were required to fill that giant curved screen. But that technology was incredibly cumbersome and complex both to produce and exhibit. So, after 10 years, a new version of Cinerama was introduced using 65mm cameras with an anamorphic lens to stretch the normal 2.2:1 aspect ratio most 70mm movies had to the full 2.76:1 aspect ratio. This new 70mm version of Cinerama was introduced with the comedy epic "It's a Mad, Mad, Mad, Mad World" produced and directed by Stanley Kramer. The Dome opened in November 1963 with the world premiere of Kramer's epic comedy in the new 70mm, single camera/projector version of Cinerama. From then on, there was no going back.
Ironically, from the time the Dome opened in 1963 until it went through a restoration in 2001, it was never able to run three projector Cinerama, even though the projection booth was specifically designed for that system. But in the late 1990s, Pacific Theatres, which not only owned and operated the theatre, it also had become the parent company of Cinerama, built a new 14 screen complex called ArcLight Hollywood directly behind the Dome. While ArcLight was under construction, they installed the previously mothballed Cinerama projection equipment, making this theatre one of only three venues in the world still capable of presenting three projector Cinerama. The other two venues are in Seattle and in Bradford, England.
When the Dome reopened as part of the ArcLight complex in 2001, new three panel prints were struck of "This Is Cinerama" (the very first Cinerama feature) and "How The West Was Won" (one of only two dramatic features produced in three panel Cinerama. It was quite a thrill seeing these movies the way they were intended to be seen.
I bring this up because, for seven years, the ArcLight complex was the original home of Hollywood's Master Storytellers. But in April 2021, Pacific Theatres announced that its Pacific Theatres and ArcLight Cinemas would remain permanently closed, a victim of the COVID pandemic. While Pacific's parent company, the Decurion Corporation has kept silent about the fate of the iconic theatre, as one of the most profitable cineplexes in the country, as well as being a popular site for Hollywood premieres and other special events, including Hollywood's Master Storytellers' 20th Anniversary celebration of "A Christmas Story," which served as a high-profile DVD launch event, complete with red carpet and plenty of media coverage.
As of press time, the ultimate fate of both the Dome and the adjacent ArcLight Hollywood complex are both up in the air. Personally, I think it's just a matter of time before the original ArcLight Hollywood and Cinerama Dome venues reopen. In the case of the Dome, hopefully with the original Cinerama equipment still installed and ready to introduce contemporary audiences to the joys of three panel Cinerama with restored features. As for the adjacent ArcLight complex, part of what made that venue so appealing was their commitment to state-of-the-art projection, reserved seats (a throwback to the 1950s and 60s with roadshow presentations) and killer caramel corn. Here's to both venues reopening before the end of this year and operated in ways that bring back their former glory.
Meanwhile, for those of you who'd like to enjoy a simulated Cinerama experience at home, thanks to the good people at Flicker Alley and Warner Home Video, you have the opportunity. Back in 2002, Warner Bros., who now owns the pre-1988 MGM library, struck a new three panel Cinerama print of HOW THE WEST WAS WON that could be presented in the three remaining theatres in the world capable of running that format. As an aside, when I saw it at the Dome it looked spectacular! They used that new print as a master for their two disc Blu-ray release, which includes both a traditional wide screen version and the "SmileBox" version simulating the curved screen presentation.
Flicker Alley has the rights to all the original three panel Cinerama features. Their initial release of THIS IS CINERAMA was transferred from a 1970s vintage 70mm reissue print. One of the reasons for that is that, while the images in each frame of normal 35mm film are four sprockets high, Cinerama frames are six sprockets high, something that transfer houses at the time weren't equipped to handle. That's changed, which is why Flicker Alley recently released a new version of THIS IS CINERAMA mastered from the original three panel negative.
THIS IS CINERAMA is admittedly a technology demonstration more than anything else. The film is a collection of short segments of various length, including capturing stage performances at the La Scala Opera House and the Vienna Boys Choir, spectacular aerial footage of various parts of the United States and, of course, the iconic roller coaster ride at the beginning of the film. On a big screen, that roller coaster ride is still one of the most spectacular pieces of cinema ever filmed. But on my 49" 4K TV, the impact frankly loses a lot, though it's still fun to watch.
As I said above, the success of Cinerama triggered the development of CinemaScope, Todd-AO, VistaVision, Technirama, Panavision and a couple of decades later, IMAX. As a matter of film history, Cinerama movies are priceless treasures and slices of both cinematic and world history. For that reason, they belong on any serious film buff's shelf.