By Kat Kramer
Well folks,
A new musical with an all-female cast has opened at the Sierra Madre Playhouse. "The Right is Ours" is about the fight for women's suffrage, and the historical friendship of Elizabeth Cady Stanton and Susan B. Anthony.  They courageously campaigned for women's rights to social and political equality in the 1800's. Most importantly, the right to vote!
This world premiere engagement has a book and direction by Lloyd J. Schwartz with music and lyrics by Adryan Russ. The choreography is by Kay Cole.  The original songs are impressive with such titles as "Seneca Falls", "The Revolution", "Ain't I A Woman?"  "Bless The Women," "Freedom," and "The Right is Ours" which was an actual quote by Elizabeth Cady Stanton herself.
The critics have been raving with positive reviews.  Some examples:
"The performers, led by the personable Emily Abeles and Anna Mintzer who play Stanton and Anthony respectively, have lovely voices."…. F.K. Foley, Stage Raw
"A reminder that we should not take our democracy for granted…. The performers were polished and enthusiastic…" said C. Edger Germain of ColoradoBlvd.ne
E. Gordon of People's World remarked " A most worthy effort…. Sierra Madre Playhouse… often presents challenging work on difficult, controversial themes and owns a proud history of world premieres."
The Sierra Madre Playhouse is a popular theatrical venue with a mission to "connect people in our diverse communities to one another through bold, resonant live performance in an intimate setting that inspires, entertains, and celebrates our shared humanity." They have a strong vision "to become the region's premier intimate performing arts destination through sustained artistic excellence, expansive educational and cultural offerings, and inclusive research."  So, it's an ideal venue to introduce "The Right is Ours" to audiences.
"The Right is Ours" runs Fridays and Saturdays at 8pm, and Sundays at 2pm through October 8th. For reservations :(626) 355-4318 or purchase tickets online at sierramadreplayhouse.org
Sierra Madre Playhouse is located at 87 W. Sierra Madre Blvd., Sierra Madre,CA 91024
Live your dreams….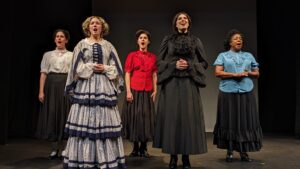 Kat
Photo credit Berrie Tsang