By Gordon Meyer
In 1927, French filmmaker Abel Gance premiered what, to this day, is one of the most remarkable motion pictures of all, time, "Napoleon." In its initial release, it had a running time of more than seven hours. Gance pioneered things like rapid cuts, moving camera shots (even suspending cameras from chandeliers) and his spectacular final 30 minute "tryptic" climax with three projectors running in sync side by side anticipating the ultra-wide screen Cinerama process by over 30 years.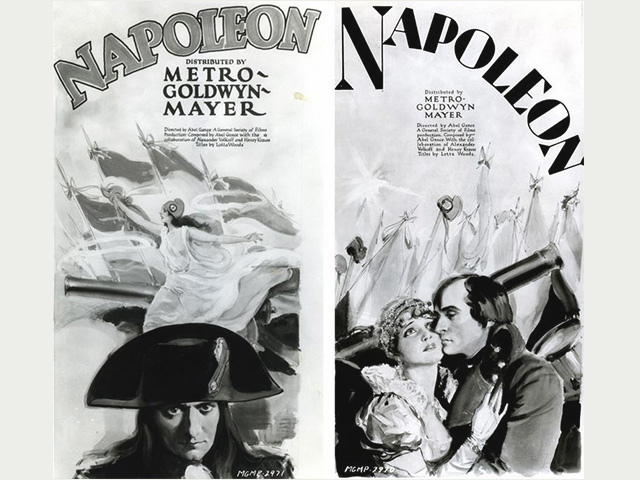 Over the years, "Napoleon" was cut and cut again, making it in many ways a lost film. Preservationist Kevin Browlow worked for decades, seeking out footage from all over the world to restore this classic. In 1980, with the support of Oscar winner Francis Coppola in the United States, a 4-hour version premiered, first at Radio City Music Hall in New York. I had the pleasure of seeing this restored version on Bastille Day at the Shrine Auditorium in downtown Los Angeles with a live orchestra and an original score composed and conducted by Carmine Coppola. I was blown away. But Brownlow was not finished.
Over the decades to follow, he continued his quest to find and restore missing footage and, in 2008, premiered a 5-and-a-half-hour version. So far, the only place this version has been shown theatrically in the United States was at the San Francisco Silent Film Festival. Like the 1980 restoration, this one was presented with a live orchestra and a new score. That presentation required 3 intermissions, one of which was a dinner break. Several friends of mine made the trek to San Francisco to attend one of the handful of shows and I was incredibly jealous.
With the sponsorship of the British Film Institute, this longer version of "Napoleon" recently made its way to Blu-ray disc and DVD, but only for European consumption. I recently purchased a British import of the Blu-ray and a region free Blu-ray player so I could enjoy it in my home. Obviously, this was not as powerful a presentation as seeing it at the Shrine, surrounded by 5,000 fellow fans. But it has become a treasured part of my film library.
All of this is a prelude to the recent announcement that Brownlow has discovered even more footage and now, Netfilx has entered a partnership with the Cinémathèque Française for an even more complete restoration. This newly expanded version is currently slated to premiere by the end of 2021 to coincide with the bicentennial of Napoleon's death and has a budget of around 2 million Euros.
Currently, there is not yet any announcements as to where this latest version will screen, in the UK where Brownlow is based, in France or here in the United States. Nor has Netflix announced whether they would be streaming this expanded version in any of its global territories. But one thing is for sure. Gance's 1927 epic is a textbook on powerful visual storytelling and this latest restoration will be well worth seeking out when it is completed. Stay tuned!